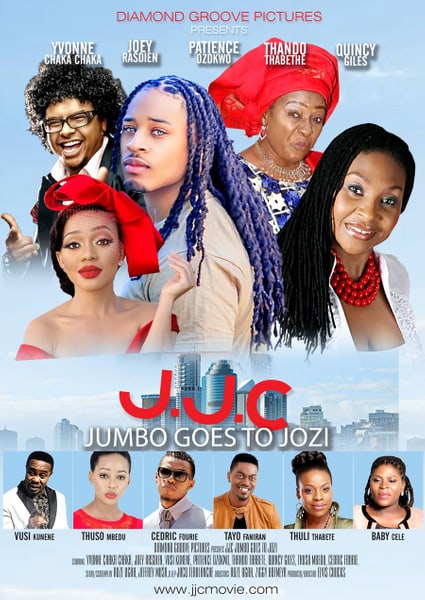 This film is not yet rated, we expect 13. JJC Is an interesting Comedy Movie With Our Favorite Multiple Award Winning Celebrities . Such as BET Award Winning-Yvonne Chaka Chaka Ace Comedian- Joey Rasdien, SAFTA Award Winning-Vuci Kunene ,Thando Thabete, Emmy Award Nominee -Thuso Mbedu, Veteran Actress-patience Ozokwo,Cedric Fourie,Baby Cele ,Thuli Thabete, And American Actor-Quincy Giles. Synopsis An American Guy in search of Love , Married an African Girl . The Drama He experienced from the entire Adventure Explored his Naivety to Love ,Marriage ,Culture and Religion . Which makes him A Jumbo in jozy (JJC) in his adventure to keeping his marriage ,He discovers that it's a learning process. Each day with different lessons to learn .and the ability to forgive and co exist.
JUMBO GOES TO JOZI Movie Trailer
RELEASE DATE
South Africa
7 February 2019
Awaiting Showtime Updates from Cinemas.
Check back soon!