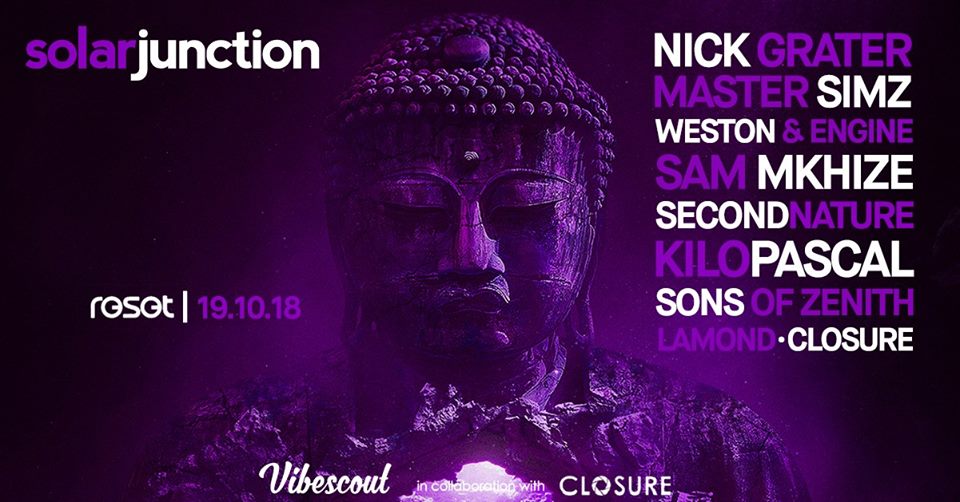 *Win Tickets* 👽Solarjunction ft Weston & Engine, Nick Grater & Master Simz
🌟Solarjunction in collaboration with Vibescout and Closure, aims to bring you the most underground and alternative sounds from the electronic music scene.🌟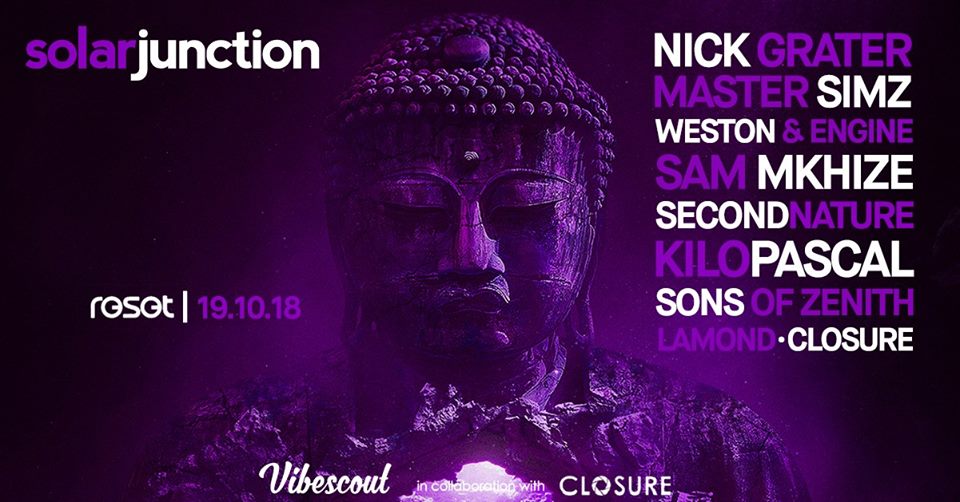 *Win Tickets* 👽Solarjunction ft Weston & Engine, Nick Grater & Master Simz
🌟Solarjunction in collaboration with Vibescout and Closure, aims to bring you the most underground and alternative sounds from the electronic music scene.🌟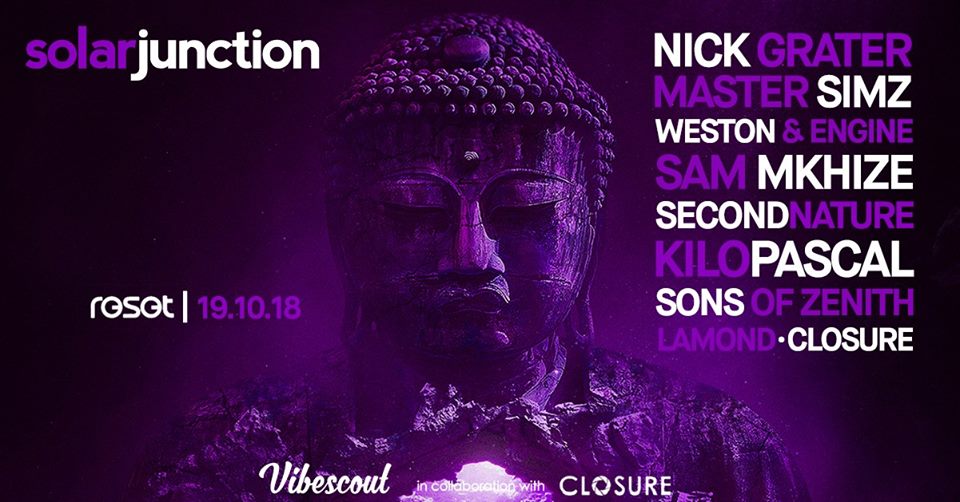 *Win Tickets* 👽Solarjunction ft Weston & Engine, Nick Grater & Master Simz
🌟Solarjunction in collaboration with Vibescout and Closure, aims to bring you the most underground and alternative sounds from the electronic music scene.🌟
Solarjunction aims to bring together some of the most talented and experienced DJ's in the industry to create a warm and vibrant night full of fun and dancing. With well over 60 years experience between all of the artists, you are in for a treat of an event.
Quick JumpEvent Details🌟Win Tickets🌟Get To Know The ArtistsTechno Tunnel Line UpWeston & Engine (JHB) [Chocolat Records]Nick Grater (JHB) [Teknotribe]SecondNature [Triple Fire Records]Sons Of ZenithThe Groove Bar Line UpMaster Simz (JHB) [Flipside Records]Sam Mkhize (George)Lamond (P.E) [Friday Feels]KilopascalClosure
Event Details
Once again Reset will be playing host to this assemblage of talent. The well-known light tunnel will set the stage for the main dance floor featuring the hottest in techno tunes this side of the Atlantic.
The Techno Tunnel is where its at!@solarjunction
As always, drinks 🍻 specials will run from 9am - 11pm, so arrive early to take full advantage of the discounted beverages.
There are VIP options available for those who enjoy a little privacy and elevation from the crowd. Tickets will go on sale soon, so watch this space!
Cost:

R80 - Presold

R100 - At the Door before 12pm

R120 - Thereafter

R150 - VIP

When: 19 October, 7pm - 2am
Venue: Reset, 71 Loop St, Cape Town
Get your tickets here!
🌟Win Tickets🌟
Stand a chance to win a VIP experience to Solarjunction for yourself and 3 friends. There's also a bottle of Olmeca Tequila up for grabs.
1 Winner x4 VIP Tickets

Bottle of Tequila valued at R1000
Watch this space, we will be releasing the competition soon!
Get To Know The Artists
Solarjunction will feature 2 dance floors; The Techno Tunnel and The Groove Bar, both boasting some of the best sound systems in Cape Town.
Techno Tunnel Line Up
The Techno Tunnel will have your head spinning! As the only light tunnel in the city, the amazing LED displays perfectly complement electronic music, setting an atmosphere of pure euphoria.
Weston & Engine (JHB) [Chocolat Records]
A diverse combination of talent, skill and hard work has brought these two inspired musicians together. Formulated at Organic Audio Johannesburg, the duo have found new life and respect in each other with their respective influences and tastes in sound. The sound can be described as Deep Progressive Techno blended with a combination of rolling deep grooves, melodies and powerful baselines.
Fresh after a hot set at Daisies, we cant wait to be blown away by this duo!@Weston & Engine
Their inspiration comes from a broad base of genres - Jazz, Reggae, The Blues, Classical, Trip Hop, Hip Hop, Garage, House Music, Techno, Minimal and Progressive House.
Nick Grater (JHB) [Teknotribe]
Nick Grater has been a stalwart powerhouse of the techno industry in South Africa for more than a decade. As with any DJ, his career began humbly with a simple residence at Atomic in Johannesburg. From these humble beginnings rose a force to be reckoned with.
Also known for his epic t-shirt swag@nick_grater
Nick has almost single-handedly kept the techno scene rolling forward in South Africa like an unstoppable steamroller of beats. As a firm believer in underground purism, Nick is recognised as one of the top techno performers in the country and a proud ambassador for this genre overseas.
His intelligent, energetic, hard, driving style has secured him a reputation as one of the finest and most technically adept DJ/producers in South Africa.
SecondNature [Triple Fire Records]
SecondNature is a project started by South African music producers Sebastian Kühne & Emil de Beer. The SecondNature sound is a combination of aggressive baselines and driving drum work in their genre of club focused, Avant-Garde Electronic music.
Constantly exploring, curating and creating new sounds comes naturally to SecondNature.@SecondNature
These new kids on the block have enveloped themselves in underground electronic music production and have perfected their craft as a high-energy act. The true focus is to incorporate their personalities in their work, ranging from content to music.
Sons Of Zenith
Cultures may coerce, but together the soulful sounds of ethereal and raw music emerged the unfolding journey that is Sons of Zenith.
Classic lip bite means some 'ish is going down!@Sons of Zenith
The only way to describe their sound is to experience it, come out and experience Sons of Zenith for yourself, you will not be disappointed.
The Groove Bar Line Up
When you're ready to escape the Techno Tunnel, The Groove Bar is the place to go chill out and regroup. Fitted with clean-cut with wooden finishes and geometric patterns for a modish look, the Grove Bar really is groovy.
Master Simz (JHB) [Flipside Records]
Master Simz, a producer/DJ with great background of music who has made a name for himself across the province of Gauteng, South Africa. Many years of production knowledge is what encourages this artist to grow and create a mature sound with uplifting vocals accompanied by warm driving basslines.
The smile on his face says it all, Master Simz truly loves his craft!@Master Simz
With a DJ career that began in 2009, he has been striving to keep his main goal to "share his only love for music to all". Living by the motto "Even though you do not have the means to compose or write a song, you composed the song that is playing in your head right now". His set is filled with surprises and beats to knock your socks off.
Sam Mkhize (George)
Born 24 July 1997, Samuel Mkhize is a South African electronic dance music producer and DJ who is slowly attaining a name for himself both locally and abroad. Known for his distinct production, which includes a unique blend of future basses, tight beats, and melancholy-drenched breakdowns, he has gone to feature on the country's top radio shows as well as released under various established record labels.
Sam would not be who he is without the teachings, mentorship and guidance from his older brother Sphesihle Ntobeko 'JubSoup' Mkhize@Sam Mkhize
He's also known for his stimulating sets, compelling the crowd with a progressive yet unpredictable style of mixing.
Lamond (P.E) [Friday Feels]
Born and bred in Port Elizabeth, Lamond has been laying down his benchmark in South Africa since first establishing CDJs at the tender age of 13.
known as "A man of impetuous passion"@lamondza
He went on to practice and drive his passion for music into his first set in a club at the age of 15. Since then he has played alongside the likes of Super Flu, Billy Kenny, Ryan Murgatroyd, Strange Loving, Pop Art Live, Timo ODV, Kyle Watson, Chunda Munki and multiple more to mention.
Kilopascal
Kilopascal will be taking you to the underground with his fresh take on hot baselines and dirty sound.
CapenTown based DJ, he pushes buttons, you dance.@kilopascal_dj
He welcomes you to his world, where more than the turn tables will be spinning. Wear comfy shoes as he is sure to have you on your feet for the duration of his set.
Closure
After many years of rubbing shoulders with the worlds biggest DJ's, who helped him acquire a fine ear, Closure is now known for some extremely unique music and for the most refined mixing.
He is able to DJ a wide range of different genres with a keen fondness for chilled and energetic indie disco, house and techno.
We sure are excited about this one, so come out and show your support and while you're here, why not meet the team!
Our vision at Vibescout is to provide the most relevant, current and comprehensive information.
If you feel we've missed something amazing or have any suggestions regarding our system, we would love to hear from you! Contact: info (at) vibescout.com