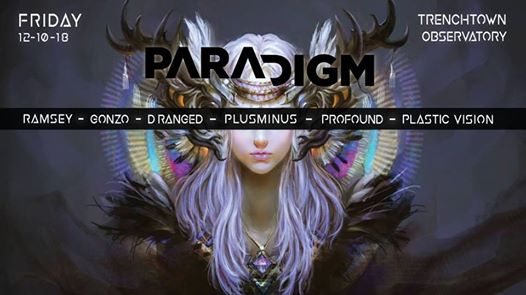 Paradigm
12th Oct, 06:00 pm
2 months ago
This Friday we're celebrating the birthday of two of our favourite DJs: Sirajuddin D Ranged Kadri and Alex Profound! So we simply had to have a little family gathering with a rock solid line up to mark the occasion :D
Life is too short for kak vibes. Paradigm Productions brings you psychedelic trance events crafted with passion and care. Solid gees guaranteed.
This is musical sanctuary - a place where friends become family.
Expect:
Quality line ups
Top-shelf decor by Evoke Productions
Fat JBL sound
Huge outside area with stretch tent
Beautiful vibes
>>The Line Up:
20:00 - 21:00 Ramsey
21:00 - 22:00 GonZo CarbonEight
22:00 - 23:00 Plastic Vision
23:00 - 00:00 DJ DrangeD
00:00 - 01:00 Plusminus
01:00 - 02:00 Profound - Brahmasutra Records - Bday Set
>> Venue: Trenchtown Obs, Observatory
> Drink specials TBC
>> Entrance Fee
R60 at the door, Ladies get in free until 9PM
R40 pre-sold.
Tickets are limited to ensure a comfortable and enjoyable experience.
Buy 4 pre-solds get 1 free.
Pre-sold tickets available from Jan Van der Ahee,
whatsapp: 082 062 1630
e-mail: janvdahee@gmail.com
STRICTLY NO ◦ under 18's (ID upon request), illegal substances, graffiti, weapons. Right of admission reserved. Participation in the event is entirely at own risk. The organizers accept no responsibility whatsoever for injury, death, loss or damage of any nature to persons, vehicles or belongings, even in the case of negligence.
Due care has been taken to make this event safe and secure
SHOW MORE