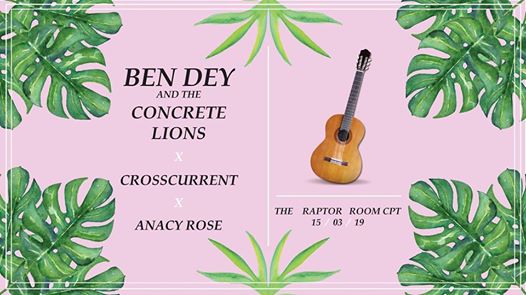 Ben Dey and The Concrete Lions
15th Mar, 05:00 pm
2 months ago
The Raptor Room presents Ben Dey and the Concrete Lions and friends.
Lyricist and lead singer Ben Dey is known for his unique voice and lyrical style. With heavy rhythms and catchy hooks, BDCL offers a unique blend of South African rock and soul with a dance twist.
BDCL has performed on both local and international stages, such as Rocking the Daisies, Oppikoppi, Splashy Fen, Up The Creek, Bushfire Festival and Kirstenbosch Gardens. Band members include: lyricist, Ben Dey; the gravy Ongx Mona on lead guitar; and brothers Alex Birns and Dillon Birns on drums and bass.
Click on the link for tickets!! http://qkt.io/DbJV8H
Early Bird: R50
General Admission: R80
***LINE UP***
9 pm - ANACY ROSE
9:45 pm - CROSSCURRENT
11 pm - BEN DEY AND THE CONCRETE LIONS
SHOW MORE