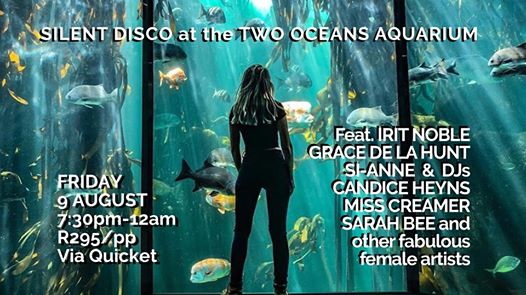 Silent Events SA
9th Aug, 06:30 pm
15 days ago
CALLING ALL WONDERFUL WOMEN & MARVELOUS MEN!
To celebrate National WOMEN'S DAY on the 9th of AUGUST Silent Events is launching the very first Phoenix Rising Global Collective at the Cape Town Two Oceans Aquarium 7.30pm - Midnight.
With exclusive after-hours access to the aquarium, the evening will buzz with two stages of entertainment as well as pop up acts, roving performers from The Psychedelic Theatre and an introduction to Phoenix Rising Global Collective Charity.
The all-female line up of local artists includes:
On the Live & out-loud stage
Irit Noble
Si Anne
Grace De La Hunt
SHINE with TIFFANY KELLY
On the Silent Disco stage
DJs:
Candice Heyns
Sarah Lambourne
DJ Miss Creamer
HOLY FUNK
SPANK
NOLITHA
There will be food and drinks available for purchase on the night.
Date: Women's Day, Friday, 9 August 2019
Time: 7:30pm – midnight
Venue: Two Oceans Aquarium, Dock Rd, V & A Waterfront, Cape Town, 8002
Cost: Adults R295/pp (limited tickets available at the door - R350/pp)
Kids half price
Ticket price includes:
-Welcome drink on arrival from Journey's End Vineyards
-2 stages of all female artists
-Silent Disco headphones rental
-Entrance and access to the Aquarium with all it's underwater delights
-Free access for women to the Shine Online Global empowerment Masterclass
-Giveaways on the night with exciting prizes and freebies
-Inspiring talks from Phoenix Rising Founder and the Africa Director
-Pop-up roving spectacles from the fantastical artists at Psychedelic Theatre
- Virtual Reality Massage treatment.
-On-the-night opportunity to sign up for annual membership to the Two Oceans Aquarium at discounted price of R385/pp
MORE ABOUT PHOENIX RISING
Phoenix Rising is an exciting global network of women supporting women to make a difference in the world and has been created by Founders Tiffany Kelly and Laura Westcott to provide a platform for empowerment and impactful leadership action towards global culture change.
The Legacy Project is part of the RoundTable Global Group and has been established to provide development, coaching and support for women and young people. The primary purpose is to unlock potential, empower and provide opportunities for the target audience to step up and deliver positive impact projects in their own communities.
SHOW MORE