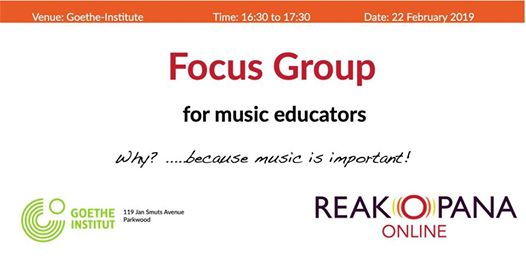 Reakopana Online
22nd Feb, 02:30 pm
3 months ago
Reakopana Online is hosting a focus group at the Goethe-Institute in Johannesburg for music teachers.
This focus group is a discussion about the music education industry, what we can do to assist music teachers currently, in the future, and discuss current digital solutions available through Reakopana Online and what could be helpful going forward.
Music education is important. Bring your thinking cap.
Encourage your network to come and join in the conversation.
At Reakopana Online we envision a world where being a musician is seen as a meaningful and sustainable endeavor within and between communities in Africa.
To contribute to this in the long term, we create online infrastructure with curated educational content that will give developing talent, music teachers and the performing arts community the opportunity to learn, collaborate and ultimately become competitive in the global market.
SHOW MORE