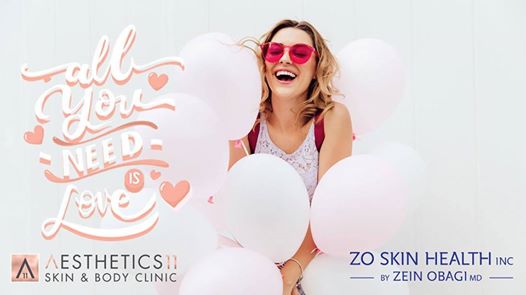 Aesthetics 11 Skin & Body Clinic
13th Feb, 07:00 am
2 months ago
Whether your Valentine's day plans involve a romantic night out 💃, a candle-lit dinner 🔥 at home or a Valentine's singles party 🎉 @aesthetics11sa 👄 have teamed up with @dermagurusa to help you look and feel your best this Valentines day!
Join us for a day of love & pampering at our "All you need is Love" ❤ Treatment day and receive R100 off a ✨ZO Hydraflash Facial ✨treatment from leading medical skin care brand ZO Skin Health.
Date: Wednesday, 13 Feb 2019
Time: 9am - 6pm, by appointment only
Venue📍: Aesthetics 11 Skin & Body Clinic, 65 Main Road, Green Point
💌 Price: R280* (Standard price: R380)
*If you purchase a ZO skin health product on the day, you will receive your facial treatment for🌹FREE!
•
•
You'll be treated to cupcakes 🎂 and refreshments plus you stand the chance to win ZO Skin health products in our "All you need is love" 💕competition!
The Hydraflash Facial ⚡from ZO Skin Health is the perfect pre-valentines facial to brighten your complexion, improve skin texture, plump your skin with moisture and calm any breakouts or redness for immediately glowing, smoother and clearer skin.
Get ready to ❤ yourself this Valentine's!
📩 DM us if you would like to receive a personal invitation. Spaces are limited and subject to availability.
SHOW MORE