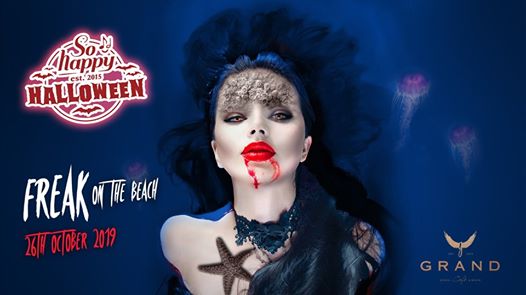 So Happy
26th Oct, 08:00 pm
25 days ago
OUR 5th ANNUAL HALLOWEEN EDITION RETURNS...BUT THIS TIME, TO THE BEACH...
We summon all our ghouls, freaks and other assorted and twisted characters to meet up again for the sexiest and most frightening experience of the year! Freaks crawl out of the dark sea onto the beach. Come and play amongst the Freaks On The Beach 💀 and join us for another deadly So Happy experience #SoHappyHalloween2019 #FreakOnTheBeach
Grand Africa & Beach will never be the same again after the 26th October ☠️⚰️⛓
What to expect:
👻 Freak Asylum Experience
👯Nightmarish performers & twisted characters
🏛Freaky activation areas
🎃 Eye slashing halloween decorations
🔥 Hell raising beats to move your soul brought to you by our notorious selection of SA's top artists
🔪Slaughter Warehouse Stage
First Artist Announcement:
– Dean Murray & Dale Leisegang
Stay tuned for more announcements!
💀💀💀💀💀💀💀💀💀💀💀💀💀💀💀💀💀💀💀💀
Ticket Phases:
Freaky Bird: R280 (Phase 1 )
Freakishly Late: R300 (Phase 2 )
Freaked Out: R350 (Final Phase)
VIP TABLES & EXCLUSIVE AREA
Freak On The Beach VIP TABLE PACKAGES:
Ghouls Graveyard: R7500 Package ☠️⚰️
1x Bottle Ciroc Vodka
1x Don Julio Tequila
Red Bull Mixers included
1x Private Hostess
8 x VIP Table Tickets
Slaughter House: R5000 ⛓
1x Bottle Ciroc Vodka Mixers
1x Private Hostess
5 x VIP table tickets
Book Your Tickets & VIP Table Package Before Its Too Late!
Ticket Link: https://www.howler.co.za/sohappyhalloween2019
Note: We cannot guarantee that tickets will be available at the door so we urge you to purchase your tickets in the allocated phases.
💀💀💀💀💀💀💀💀💀💀💀💀💀💀💀💀💀💀💀💀
DJ LINE UP
First Artist Announcement:
– Dean Murray & Dale Leisegang
Stay tuned for more announcements!
💀💀💀💀💀💀💀💀💀💀💀💀💀💀💀💀💀💀💀💀
What could be better than an experience like this knowing that you are supporting an unbelievable cause?
So Happy have a powerful charitable drive and are proud to be associated with the Smile Foundation whose aim to help kids with severe facial conditions and help change their lives forever. Celebrate in the knowledge that your fun is helping other people become happy too.
% of every ticket sold will go towards this life changing cause.
Must be 21+ to enter identification
SHOW MORE