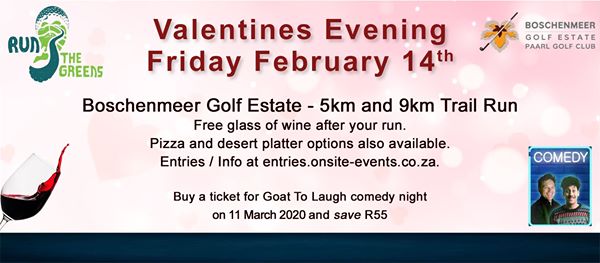 Onsite Events
14th Feb, 04:30 pm
9 days ago
Run The Greens is back with a bang!!
Join us on the 14th of February on the spectacular Boschenmeer Golf Estate for a 5km or 9km run through the estate and the golf course.
After your run you can enjoy a free glass of wine or coffee. Pizza and a desert platter (3 deserts - brownie, 2 x chocolate strawberries, peppermint crisp tart) that can be shared to make your Valentines evening a memorable one. Wine, Pizzas, Craft Beer, Live Music!!
You also have the option to buy a discounted ticket to the Goat To Laugh Comedy Night at the clubhouse on the 11th of March 2020. Schalk Bezuidenhout, Rob Van Vuuren, Kate Pinchuck and Kagiso Maokgadi
Two nights out for the price of one!!!!
Options.
5km or 9km Run - 1 Run entry plus free glass of wine or coffee - R100
5km or 9km Run - 1 run entry plus free glass of wine or coffee, pizza and desert platter - R280
5km or 9km Run Partner Special - 2 Run Tickets, 2 glasses of wine, 1 pizza and desert platter to share - R380.
If you take the Partner Special you will have to enter as a team with a team name. Best team name will win a prize!!
Buy a ticket to the Comedy festival at a discounted fee of R100 per person. You save R55!!
Start at 18:30
Medals for all finishers.
Timing free and results are live on webscorer.com
PLEASE NOTE THAT THE RUN AND THE COMEDY NIGHT IS NOT ON THE SAME EVENING. MAKE SURE YOU HAVE THE RIGHT DATES.
SHOW MORE