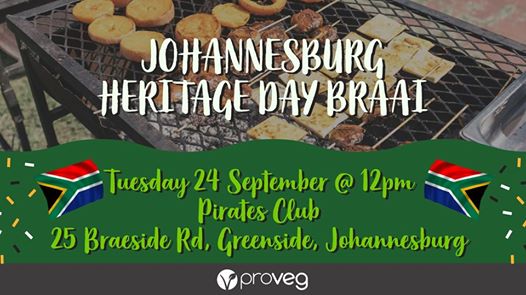 ProVeg South Africa
24th Sep, 10:00 am
in 9 days
On Heritage Day, Tuesday 24 September, thousands of South Africans will head outdoors, get the fires going and engage in one of our nation's favourite pastimes – having a braai! We believe that coming together as a community, showing that we care about animals, the environment, and each other, is more important than the braai itself!
We are proud to be hosting a plant-based Heritage Day Braai along with a long list of partners who share our concern for animals and the environment. The event will be a community-led bring & braai where everyone is welcome, and guests are encouraged to bring along vegan food that represents their heritage. Please ensure that all items that you bring along are 100% plant-based :)
Date: Tuesday 24 September
Time: From 11h00, braais to be ready by 12h00 until 16h00
Venue: Pirates Club, 25 Braeside Road, Greenside, JHB
Cost: - Bring a side dish or items to share: Free!
- Students without bring and share items: R30
- Adults without bring and share items: R50
- Kids under 12: Free!
- Dogs on a leash: Free!
Thanks to our sponsors, we'll have plenty of great meat-free burgers available, and we'll provide a few salads too. Please bring some food to share if you can, but don't feel too much pressure if you aren't able to bring food, or don't know where to start.
Please invite friends and family who might be keen and let's make this one of the biggest Heritage Day celebrations in Cape Town!
Please don't forget to bring:
- Camping chairs/picnic blankets
- Plant-based food to share
- Sunblock and sun umbrellas
- Board Games
- Furry friends, with their snacks and water (on a leash)
- Own cutlery
- Cash (if you'd like to make a donation to ProVeg)
- Friends and family!
- Great vibes
We will have a cash bar available throughout the event. The venue has given us a discounted rate to use their facilities so please help us to say thank you by supporting the bar.
We are able to host events like this due to funding from donors - please consider making a donation on the day to help us continue to host similar events in the future. We will be able to accept donations in cash or via Snapscan; any amount would be appreciated.
If you would like your organisation to be a partner at the event, or if you'd like to sponsor food or any other elements of the braai please contact risha.naidoo@proveg.com
★ There will always be people with differences of opinion regarding vegan food. Let's please leave judgement out of this event. If you don't agree with Coke or palm oil etc., don't drink/eat it - but please don't make people feel alienated for bringing it by preaching/explaining it to them - the most important thing is that none of the food contains animal products. ★
SHOW MORE