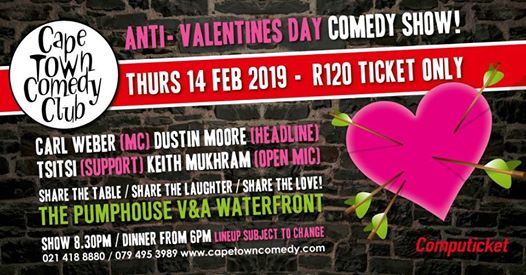 Cape Town Comedy Club
14th Feb, 04:00 pm
a month ago
Having made it to the list of "8 anti-Valentine's activities in Cape Town" (rated by lack of romance) by Eat Out Magazine in 2015 (http://www.eatout.co.za/article/eight-anti-valentines-activities-cape-town-rated-lack-romance/), Cape Town Comedy Club is once again bringing you our annual Anti-Valentines Day Comedy Show on Thursday 14 February 2019!
"Local comedians making light of Valentine's Day – this is bound to banish the gooey feelings." – Eat Out Magazine, February 2015
Prepare yourself for a loving treat with Carl Weber as the MC, Dustin Moore as the Headline Act, supported by Tsitsi & open mic act Keith Mukhram. Line-up subject to change.
Please be reminded that the venue arranges the seating so come along to
share the table, share the laughter and share the love!
Tickets are R120 and available from any Computicket outlet or Shoprite, Checkers stores:
http://computicket.net/web/event/cape_town_comedy_club_14_february/1248813761
Cape Town Comedy Club, the only dedicated comedy venue in the Western Cape is a dinner theatre and has a full restaurant and bar available.
I M P O R T A N T I N F O R M A T I O N
Entertainer/iVenture/Booking.com
Not redeemable at this show as it is a special show/event.
How does the seating work?
The seating arrangements in our 180-seater dinner theatre are handled by Cape Town Comedy Club and very often patrons have to share tables. Seating requests can be considered but not guaranteed as we also need to consider our other patrons for the night. If you have booked separately with Computicket and would like to be seated together, email us a list of all the Computicket Purchasers Names so that we can try our best to group you together. "Share the laugh, share the table "
SHOW MORE