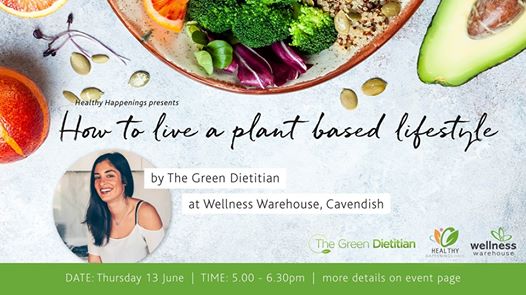 Wellness Warehouse
13th Jun, 04:00 pm
13 days ago
Join us and The Green Dietician as we learn more about a Plant-Based Lifestyle. This talk is not only for the health fanatics but for anyone who is interested in learning a little bit more about plant-based diets.
What can you expect to learn from this talk?
1. Jessica's story: The journey on how she became a Dietitian, how and why she went plant-based and the amazing health benefits Jessica experienced.
2. Plant-based diet 101: How to transition to a plant-based lifestyle; Which nutrients to watch out for; how to build balanced meals and how to supplement correctly.
3. Q and A and myth busting: Answering all of your questions about nutrition on a plant-based diet and busting some common myths e.g. Is soy bad for you? Can you really get enough protein and iron from plant foods? Are meat and dairy alternatives healthy and can they form part of a plant-based diet?
@The_Green_Dietician, Jessica Kotlowitz, is a Registered Dietitian with a Masters degree in Nutrition (Stell. University). Jessica has a private practice in Cape Town which focuses on plant-based nutrition. Jessica is passionate about the use of plant-based diets for the treatment and prevention of obesity and chronic diseases of lifestyle such as Diabetes, high blood pressure, heart disease and cancer. She also focuses on helping athletes, pregnant women, lactating women and children to achieve optimal health, well-being and performance while following vegan or vegetarian diets.
Join us at 5pm in our Plant Power Pop-Up Shop in Cavendish Square, where you will register and receive a generous goodie bag as well as a warm cup of tea. The talk will start at 5.30pm and there will be interactive and informative... something for all genders and ages! Space is limited to 20 people, so book your tickets today!
DATE: 13 June
TIME: 17:00 – 18:30 (Talk starts at 17:30)
LOCATION: Wellness Cavendish
PRICE: R100
SHOW MORE