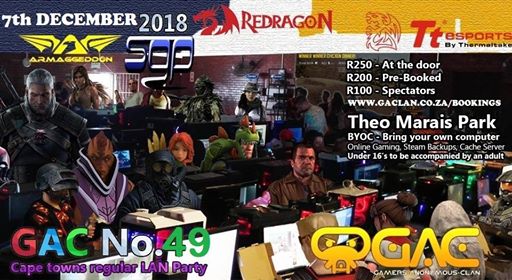 StanMan94
7th Dec, 03:00 pm
2 months ago
* Cape Town's Biggest most Regular LAN-Party.
* Steam-Cache, Internet Prioritized Gaming, socializing, Backups.
* Dota 2 ,CS:GO, Pubg Competitions.
* Things to bring: PC with double power plug, headphones (No Loud Speakers), Sleeping bag and mattress, Good Attitude, Snacks.
* For those that do not feel like leaving the venue, there will be a Tuck-Shop right there a few steps away from your seat in the hall. There will be things from Cheese & Chicken Burgers to energy drinks on sale as well as a variety of Stickers to buy so remember to check it out.
* There will be music playing, so please leave your loud speakers at home, so we do not get 10 different things playing at once!
* There will be a no smoking policy of any devices in the hall for all the non smokers. Designated Smoking Area.
* Anyone under the age of 16 will need to be accompanied by an adult.
* No Alcohol or Drugs are allowed onto the premises, you welcome to go to the Bar on Premises Provided you bring your ID. Outrageous Behavior can have you expelled from the event.
* Designated Sleeping/Spectator Area.
* Right of Admission reserved.
Venue is open from Friday afternoon 5PM to Sunday Morning 7AM
PC+Person R250 at the door. R200 If Booked via www.gaclan.co.za\bookings
Spectators R100. Regret No Refunds.
SHOW MORE