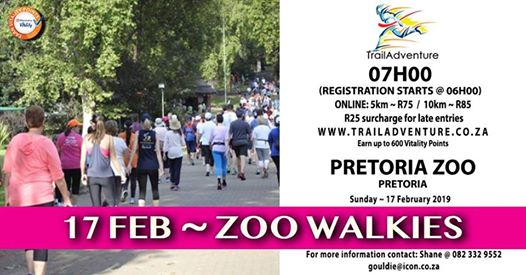 Entrytime Enteronline
17th Feb, 05:00 am
a month ago
• Earn Up To 600 Vitality Points
Event Date: 17th Feb 2019
Province: Gauteng North
Online Entry Start Date: 21st Nov 2018
Online Entry End Date: 15th Feb 2019
Contact: Shane
Contact Number: 082 332 9552 / gouldie@icon.co.za
Distance & Entry Fee
Pre Entries (Closing 15 Feb 2019):
10km - R 85,00
10km 60 Yrs+ - R 22,00
10km Kids Under 13 Yrs Includes A Medal - R 22,00
5km - R 75,00
5km 60 Yrs+ - R 22,00
5km Kids Under 13 Yrs Includes A Medal - R 22,00
Venue:
Pretoria Zoo
Start Time:
07h00
Registration 06h00:
• Collection of timing cards from an hour and a half before start time.
• Enter at the venue and hour before race starts
Late Entries On The Day:
R25 Surcharge
Products For Sale:
Cap: R120
Beanie: R80
Mug:R80
T-shirts: R150
TrailAdventure Running Shorts R350
Take Note:
A) Walking is allowed on the 5 and 10km routes.
B) No cut off time.
C) Medal to all finishers.
D) Vitality and Mulitply points available.
Route Information
Trail Running Route Categories:
After designing, cutting and running many trails I have decided to categorize my Trails to give entrants an idea of each trail.
This is my ratings on Trail Runs for Technicality and Difficulty. The ratings are specific to the distance. I am comparing 5,10 and 15 distances etc with other races same distances. Obviously a 21 k is more difficult than another races 15k.
All these ratings apply to walking the routes as well
Hurricane:
Difficulty (5k - 4/10) (10k - 8/10) (15k - 8/10)
Technical (5k - 7/10) (10k- 9/10) ( 15k - 9/10)
Tornado:
Difficulty (5k - 6/10) (10k-6/10) (15k - 7/10) (21k - 7/10)
Technical (5k - 6/10) (10k - 7/10) (15k - 7/10) (21k - 6/10)
Hydro:
Difficulty (5k - 6/10) (10k- 7/10) (15k-6/10)
Technical (5k - 6/10) (10k - 6/10) (15k - 7/10)
Cyclone:
Difficulty (5k - 3/10) (10k - 4/10) (15k -4/10)
Technical (5k - 3/10) (10k - 5/10) (15k- 5/10)
Little Eden:
Difficulty (5k - 3/10) (10k - 5/10) (15k - 6/10)
Technical (5k - 4/10) (10k - 5/10) (15k -7/10)
Crystal Springs - Goat Stage Race (25 and 15k)
Difficulty
Technical
Crystal Springs - Baby Goat Stage Race (10 and 5k)
Difficulty
Technical
Smuts:
Difficulty (3/10)
Technical (4/10)
The Barn Night Races:
Difficulty (2/10)
Technical (3/10)
The Barn Day Runs
Difficulty (2/10)
Technical (2/10)
Golf Course Night Races:
Difficulty (2/10)
Technical (2/10)
Serengeti, Copperleaf and Zoo Night Races:
Difficulty (1/10)
Technical (1/10)
Road Races:
Difficulty (0/10)
Technical (0/10)
General Information
1. There will be No Refunds due to rain or lightning cancellation
2. No licence is necessary to take part in race
3. No pets or animals are allowed at any of our races
Enquiries
082 332 9552
SHOW MORE