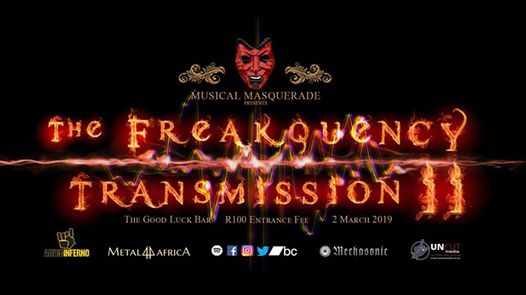 Musical Masquerade presents
2nd Mar, 03:00 pm
3 months ago
Your presence is requested at The Freakquency Transmission II.
Come thrill the senses with an evening of musical virtuosity and astounding physical feats. A line-up of 8 freakishly fantastic bands will perform alongside some spectacular sideshow acts!
Be prepared to be transported to a realm of artistic delight.
One and all are invited to attend, and you are encouraged to dress up 'carnivalesque' for the occasion.
DATE: 2 March 2019 - 5pm till late
PLACE: The Good Luck Bar JHB
ENTRANCE: R100
THEME: Dark Carnival (A prize will go to the best dressed person!)
LINE UP:
Caution Boy
In Misery
Polar Dust
Fspot
Mr. Morgue
Me'ek Band
Mad God
It's A Fucking Rhino
Fire dancing and freaky performances by Tandem Flame Entertainment
Magic by Charlie Quinn Magician
We look forward to this fun-filled evening of dark delights as we will also be filming and recording some live performances on the night for live video compilation!
Prizes for the most intriguing outfit of the evening, do you dare!?
Band merchandise and art will be on sale.
R.O.A.R
SHOW MORE