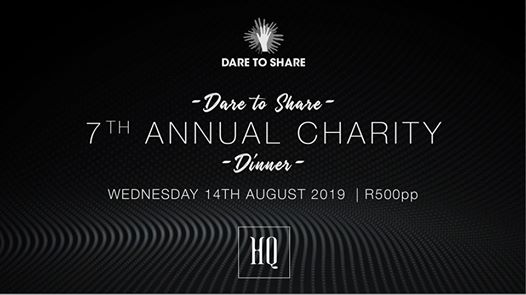 HQ
14th Aug, 06:00 pm
10 days ago
Headquarters would like to cordially invite you to our 7th annual Dare To Share Charity Dinner on 14 August 2019! 🍽
Since inception in 2012, Dare to Share have fed over 800 000 meals and currently support 33 registered organisations in the Western Cape alone in sectors ranging from orphanages, shelters, centers for abused woman and children, animal shelters, children with terminal illnesses and trying to create solutions to reintegrate the homeless back into society responsibly.
Dare to Share also currently supports up to 59 families on a weekly basis supplying them with food, clothing and toiletries all made possible due to corporate and private donations.
Their current initiatives including The Dare To Share Food Fund, Dare to Share Blessing Bags, The Seasoned Saturday, Dare to Share Yummy Meals, RAW images with Coffee Beings soon to be added to our fundraising campaigns.
Tickets are available online from Howler here: https://www.howler.co.za/daretoshare.
For R500 pp, enjoy a 3-course meal of our crisp salad, sirloin steak with bottomless fries and a dessert. 🥗🍖🍟🍷
MENU:
A crisp salad of cos and iceberg leaves, toasted pine nuts, Parmesan shavings and dressed with Dijon mustard.
250g sirloin wet aged for 21 days, grilled perfectly medium-rare, served with bottomless skinny fires and Cafe de Paris sauce.
PERFORMERS:
DJ's Shaun Westwood
DJ Sox
Timothy De Monk
DRESS CODE:
Formal. Think cocktail dresses, heels, suits and ties. 👗👔
See you then to support this great cause!
SHOW MORE