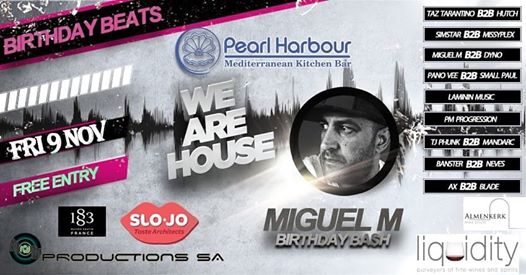 M2M Productions South Africa
9th Nov, 03:00 pm
2 months ago
WE ARE HOUSE in association with M2M Productions SA is proud to present BIRTHDAY BEATS. MIGUEL M Birthday Bash.
19 DJ's, under one roof, for one night, all for a special person.
Feeding your soul with the music of various genres.
FREE ENTRANCE
Back to back lineups.
Taz Tarantino - Hutch SA
SimStar - Missyplex
MIGUEL M - Dyno
Pano Vogdanos - DJ Small Paul
Laminin MUSIC
PM Progression
TJ PHUNK - mandaRc
DJ Banster - Neves
Axell - DJ Blade
Join us to celebrate the #BirthdayBash #BirthdayBeats of MIGUEL M .
SHOW MORE