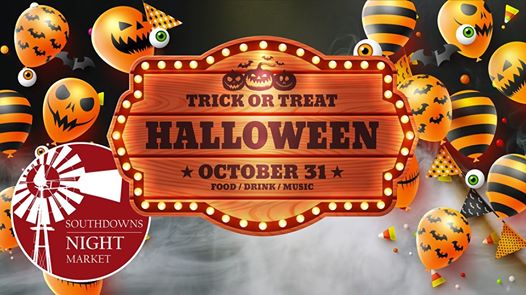 Southdowns Night Market
31st Oct, 02:30 pm
20 days ago
Its the HALLOWEEN Market!
Ghosts and Witches and Creatures of Fright
Don't miss the call of Halloween Night
Come one, Come All in the Threads of the Season
If you Miss This Bash, Tis an Act of Treason!
Wear a Costume or be vanished into the night
Regrets only if you dare!
As always, we will be bringing you the best in authentic, hand-made crafts, delicious gourmet food, and awesome entertainment that Pretoria has to offer!
Save the date friends, and join us for another edition of #SouthdownsNightMarket
*** Line - Up ***
******************
6pm Brogan Ballack
7pm Kayleigh Mocke
8pm Cam Alborough
******************
______________________
Entrance is FREE
All ages welcome / Family Friendly
Camping chairs / Picnic blankets welcome
No alcohol served to u/18's
ROAR | DBAD
DO NOT FORGET YOUR CAMPING CHAIRS
______________________
Prohibited items:
- Own food & drinks / cooler boxes
- Gazebos, tents and Wendy houses
- Pets (If you bring your furry friend, please also bring water and snacks as we will not supply this)
- Weapons, drugs and bad attitudes.
===========================================
** IMPORTANT NOTICE **
ALL PARKING AREAS ARE FREE - Tip guards at your discretion :)
STALL & ARTIST APPLICATIONS: email southdownsnightmarket@jatrade.co.za
==========================================
⚠️⚠️ ATTENTION!! ⚠️⚠️
Please note that you enter the Southdowns Shopping Centre at your own risk. Whilst we do provide security, the Southdowns Night Market, it's owners, agents, staff, sponsors and management will not be held responsible for any death, loss, injury and/or damage that occurs, regardless of whether such death, loss, injury and/or damage is caused through any act or omission caused by the Southdowns Night Market, it's owners, agents, staff. sponsors or management.
SHOW MORE