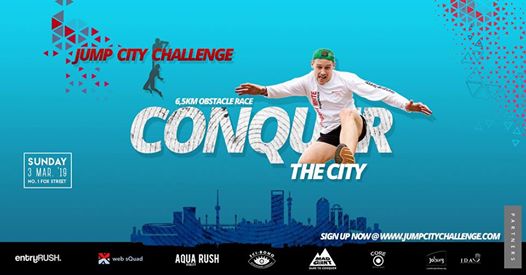 Jump City Challenge
3rd Mar, 04:00 am
3 months ago
Get ready for the greatest race in the city, coming your way on the 3rd of March 2019. It is 6,5km of adrenaline filled urban adventure for you and your team.
Don't just take to the streets, take to the buildings, the museums and discover Joburg in 2019. The race starts and finishes at Mad Giant on Fox Street and now features over 32 challenges and 4 incredible landmark buildings to take a speed tour through along the way.
Get ready to zip line through the city on our latest addition to obstacle on route or get lost in the dark as an old miner seeks his revenge 6 stories below the streets on Joburg.
Featuring:-
- The Heritage Mile
- 1,1km inside Museum Africa (one of the oldest buildings in the city)
- Newtown Park
- 2,1km inside Sci-Bono (With games / challenges for athletes along the way inside the museum)
- Total Blackout
- The Old Bus Factory
- The Sheds @ No. 1 Fox Street
The 1st 100 athletes to register will each receive a commemorative dry fit race - t shirt with their entry, to be collected at registration.
The 1st 500 athletes to register will each receive a pair of funky "My Joburg" running socks, to be collected at registration.
When all is said and done, kick back and relax at one of Joburg's gems, the Sheds Market and Mad Giant.
Space is limited, so sign yourselves up now at www.jumpcitychallenge.com
SHOW MORE