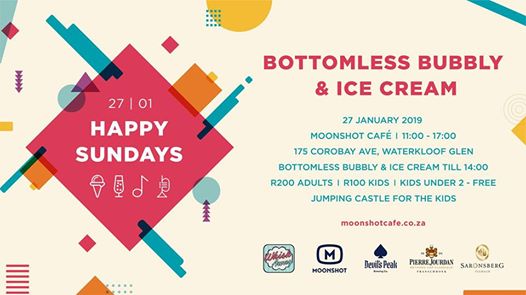 Moonshot Café
27th Jan, 09:00 am
2 months ago
Bottomless Bubbly 🥂 & 🍦 Ice Cream,
Remember to book your tickets: https://www.quicket.co.za/events/63951-happy-sundays-iii-bottomless-bubbly-ice-cream-an...
The perfect way to spend your Sunday
Where the kids can also enjoy themselves!
R200 for Adults
R100 for Kids
Kids under 2 FREE
When: 27 January 2019
Time: 11am - 5pm
Dress: Summer!!
You get:
🥂 to drink bottomless bubbly till 14:00
🍦 to be whisked away by an endless supply of the best
ice cream in town from WhiskAway Ice Cream and Sorbet
🎶 to groove to jazzy tunes
🌅 to watch the sun set from one of the best rooftop bars
Moonshot Caféshot Café in Pta.
#icecream #whiskaway #handcrafted #homemade #party # jazzytunes # sunset # bubbly
#MHLISTEDBUSINESS
SHOW MORE