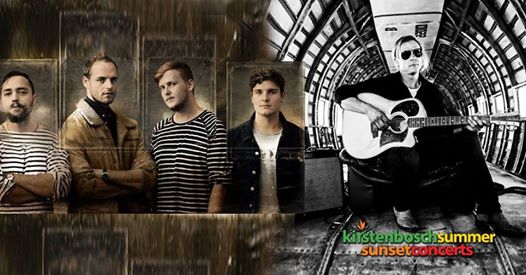 Kirstenbosch Summer Sunset Concerts
17th Mar, 03:15 pm
2 months ago
Spoegwolf is an Award Winning, Afrikaans music group from Paarl, which was founded in January 2012. The group consists of Moskou du Toit (drums, percussion and vocals), Chris von Wielligh (guitar, piano), Albert van der Merwe (bass guitar, vocals) and Danie du Toit (vocals, guitar). Their hits are "Loerie", "Lenie Blou", "Bittermaan" and "Somerset Wes".
With their thought-provoking lyrics and rich sound, Spoegwolf is considered to be the current face of the Afrikaans Alternative scene.
Jan Blohm is an Afrikaans songwriter and rock and blues singer. He is a great admirer of Breyten Breytenbach (Jan Blom is a pseudonym of Breytenbach) and tries to give a poignant feature to his music. In 2005, he also appeared as an actor, in the TV series "Dit wat stom is" He has received several awards, including a SAMA for Best Afrikaans DVD for Live Performance (2008). His hits include: Green Sweater, 7 Years, Ruby, Breyten's Letter and Red Wine & Mary-Jane
Gates to the concert area open at 16h00.
All concerts take place irrespective of rain. Regret no refunds are issued.
Please note that www.webtickets.co.za is our ONLY online ticketing partner.
Prices: Adult: R190, R150: Youth 6-21 years with ID, Children under 6 years: Free
Kirstenbosch cannot guarantee that tickets purchased from third parties will be valid.
#KBRocks #Spoegwolf #JanBlohm
SHOW MORE