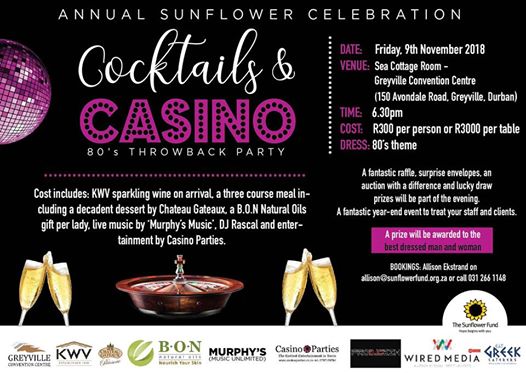 The Sunflower Fund
9th Nov, 04:30 pm
2 months ago
A blast from the past with all the festive trimmings is what guests can expect at the much anticipated Annual Sunflower Celebration 'Cocktails & Casino' 80s Throwback year-end party taking place on Friday, 9 November 2018 at the Sea Cottage Room of the Greyville Convention Centre from 6.30pm.
Tickets are R300 per person or R3 000 per table and includes KWV sparkling wine on arrival, a three course meal including decadent desserts by Chateau Gateaux. Also on the night live music by Murphy's Music Unlimited, DJ Rascal on the 'throwback' turntables, a fun casino element by Casino Parties as well as an exclusive B.O.N Natural Oils gift for all the female guests. The Sunflower Fund is encouraging everyone who has been a part of their journey to join in the celebrations and support this worthy fun-filled event which is the perfect platform to treat staff or clients.
Funds raised from this event will enable The Sunflower Fund to create awareness and education about blood stem cell donation, recruit more blood stem cell donors, grow the patient support fund and maintain a registry of committed donors. This in turn means greater hope of life for patients who are diagnosed with life-threatening blood diseases and who are in need of a blood stem cell transplant from a matching unrelated donor.
Pre-bookings are essential and tickets are limited, so book early to avoid disappointment. For bookings or more info on the event, contact Allison on allison@sunflowerfund.org.za or call 031 266 1148.
For more information on The Sunflower Fund or how to become a blood stem cell donor, please visit www.sunflowerfund.org.za or call toll free 0800 12 10 82.
SHOW MORE