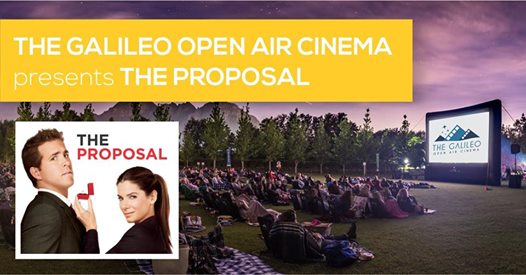 The Galileo Open Air Cinema
22nd Feb, 04:00 pm
24 days ago
The Galileo Open Air Cinema presents The Proposal at Meerendal Wine Estate, under the stars!
When she learns she's in danger of losing her visa status and being deported, overbearing book editor Margaret Tate forces her put-upon assistant, Andrew Paxton, to marry her.
Tickets range from R89 - R175. Ticket packages at http://thegalileo.co.za/buy-tickets/
Doors open at 6pm. Movie starts at 8pm. A variety of food, alcohol and hot & cold beverages are available on location – cash only.
No alcohol to be brought into Meerendal Wine Estate, but will be on sale. No outside chairs/backrests allowed. Light drizzle, cold or wind will not cancel the event, so please come prepared. Should the event be cancelled due to heavy rain or strong wind, you will receive an SMS and e-mail to the registered Webtickets account. Please refer to our website for our terms & conditions.
SHOW MORE