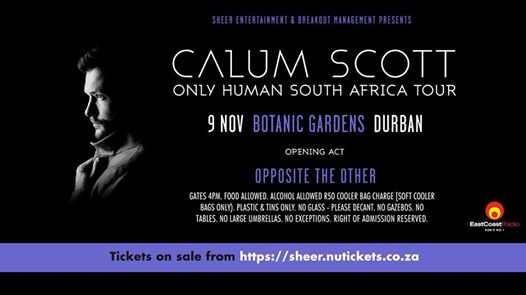 BreakOut
9th Nov, 02:00 pm
6 days ago
#CountdownToCalum
Friday 9th November 2018
In association with East Coast Radio
Durban Botanic Gardens
9a John Zikhali [Sydenham] Road, 4001 Durban
Running Order:
16:00 Gates Open
17:30 Opposite The Other
19:15 Calum Scott
21:00 Venue Clear
Food is allowed. Drinks are Allowed.
Alcohol is allowed into the venue in plastic or tin, and ONLY in soft coolerbags - R50 PER COOLERBAG (Alcohol)
We also have food and drink options at the venue.
Seating is on the field, blankets, cushions, camping chairs welcome.
Umbrellas and Gazebos are NOT ALLOWED.
Tables are NOT ALLOWED.
Soft Cooler Bags welcome, Hard Cooler Boxes NOT ALLOWED.
Professional Cameras, Glass, Weapons, Drugs are NOT ALLOWED.
No Exceptions!
Ticket Price: R395 (excl. R15 service fee)
Children 7 & Under enter free.
Ticketing link: http://sheer.nutickets.co.za/
Platinum selling singer/songwriter and Britain's Got Talent finalist, Calum Scott has announced the South African dates for his 'Only Human' Tour, performing live in Durban on the 9th of November, Cape Town on November 10th and Johannesburg on November 11th.
Scott's heartwarming appearance on Britain's Got Talent in 2015 shot him to instant global stardom, and when he officially released his audition song 'Dancing On My Own' as the lead single from his debut album Only Human, it took the world by storm. "Dancing On My Own" quickly charted in over 34 countries on Spotify, peaking at No. 1 on the Viral chart in six, including the U.S. Now certified Platinum in four countries, it was the best-selling U.K. single of 2016 by a British solo artist and was nominated for a Brit Award for Best Single. The song has over 550 million streams worldwide, while views of the video are approaching 225 million.
Only Human is the result of a long, cathartic songwriting journey. Filled with deeply personal material, Scott's ability to transform pain into beauty is undeniable, whether he is addressing coming out to his father, unrequited longing, adolescent isolation, or the gratitude he feels toward his sister Jade, who pushed him to sing on stage for the first time and auditioned alongside him on Britain's Got Talent.
Scott's elegantly sculpted pop centres on his soulful vocals and heartfelt lyrics, exemplified in gently uplifting single 'You Are The Reason, aching piano ballad 'Hotel Room' and hit single 'Rhythm Inside'. The singer's ability to consistently build on his gift for poignant, emotionally charged performances is a sure sign of the lasting impact the Englishman will continue to have on all who hear his voice. To experience it in the flesh is unmissable.
'Scott's stunningly pure voice is affecting enough in itself, but his lyrics on every one of the [album's] tracks are vulnerable and raw.' – Billboard
'['No Matter What'] left concert goers captivated as Scott's voice radiated throughout a silent crowd. Upon finishing the song, Scott couldn't hold his emotions back and walked to the back of the stage to dry his eyes as he received one of the biggest ovations of the night.' – The Courier Online
For more info, go to:
Website: http://www.sheerentertainment.co.za
Facebook: https://www.facebook.com/sheerent.za
Instagram: https://www.instagram.com/sheerent.za/
Twitter: https://www.twitter.com/sheerentza
Follow Calum Scott online at:
Facebook: https://www.facebook.com/calumscottmusic1/
Twitter: https://twitter.com/calumscott
Instagram: https://www.instagram.com/calumscott/
https://www.youtube.com/user/CalumScottVEVO
SHOW MORE