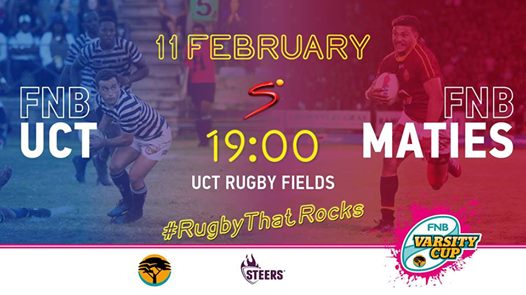 Ikey Tigers
11th Feb, 12:00 pm
2 months ago
It's the clash we've all been waiting! It's arguably the biggest and oldest university rugby derby in the world! It's the FNB Ikey Tigers taking on the defending Varsity Cup champions FNB Maties!
Here's what you can expect:
Ikeys Young Guns vs Maties Young Guns - 4.30pm
Ikeys 1st XV vs Maties 1st XV - 7pm
The Ikey Pub & Grind will be up and running serving you food and refreshments.
Get your tickets today: https://www.webtickets.co.za/mobi/event.aspx?itemid=1487712216
_____________________________
UCT students: get season tickets, PLUS a 2019 Varsity Cup shirt PLUS a free drink at the Pub & Grind for R195 by signing up to The Ikey (UCT Rugby social club)!
Sign up outside the game or in the Sports Centre.
Don't miss out on this deal made especially for UCT students 🔥
_____________________________
To avoid the long queues make sure you get to the Mile as early as possible or you are likely to miss out on the game!
Expect fireworks! Expect #RugbyThatRocks
#TheU #OnceAnIkey #AlwaysATiger
SHOW MORE