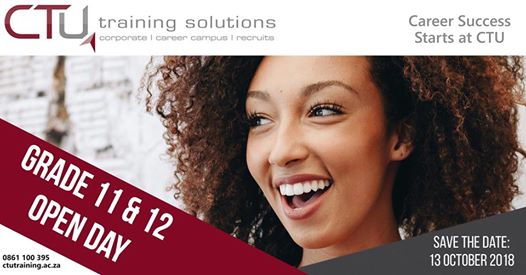 CTU Training Solutions
13th Oct, 06:00 am
2 months ago
Why wait until it's too late?
We all know the early bird catches the worm.
Launch your career with an award-winning institution.
Grade 11's: it's time to start thinking about life after school. Whether you want to study for 1 year or 3, CTU offers a variety of national qualifications, diplomas and international vendor-related certifications that will help kick start your career and set you apart from your peers. Our career advisors are ready to give you the career guidance you need. Book for Open Day today - it will be the best move you've ever made.
Matrics also welcome.
Book to attend - https://ctutraining.ac.za/upcoming-events/grade-11-12-open-day/
SHOW MORE