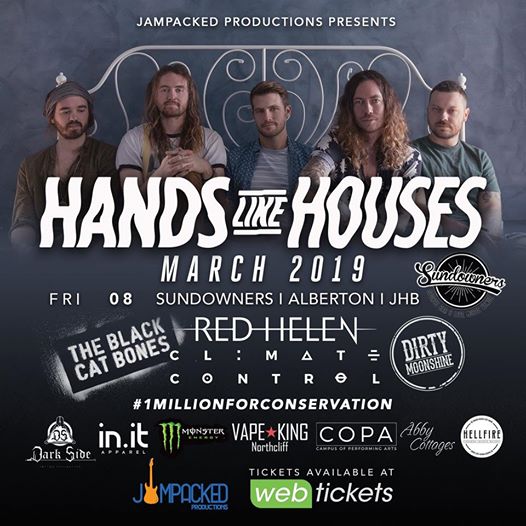 Jam Packed Productions
8th Mar, 04:00 pm
2 months ago
Hands Like Houses live in South Africa
In conjunction with Monster Energy, HellFire Cinnamon Whiskey Liqueur, Abby Cottages - Guest house, Copa Sa,Vape King Northcliff, Dark Side Tattoo Collective, & Init Apparel we're proud to present Hands Like Houses live in South Africa March 2019 - 3 shows across 3 cities with amazing local acts. In aid of Rhino Conservation Efforts, we give YOU the 4th of 5 tours aimed at raising R1 MILLION for conservation. #HLHSATour2019 #1millionforconservation 🦏
Get your tickets from Webtickets here - https://www.webtickets.co.za/event.aspx?itemid=1484956490
For more info, go to http://jampackedproductions.org/
Local line up:
- The BLACK CAT BONES
- Red Helen
- Dirty Moonshine
- Climate Control
ALL AGES
DISCLAIMER
No alcohol will be served to under 18s
JamPacked Productions assumes no liability for unaccompanied minors
Original ID required for entry
Transgressors will be prosecuted
Ticket refunds not applicable
Right of admission reserved
Doors open at 6pm.
No early admissions.
Randomised line-up with first band on at 7pm.
No outside food or alcohol allowed.
SHOW MORE