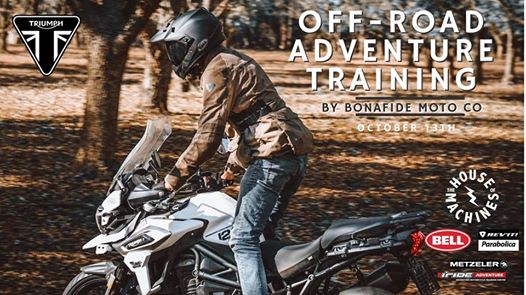 Triumph Motorcycles South Africa
13th Oct, 06:00 am
2 months ago
We're teaming up again with the experts from IRIDE to provide riders of all skill levels a day of introductory off-road training.
This will be a a day long event at the Anura Wine Estate in Stellenbosch for adventure bikes, dual purpose and modern classics. This course caters to those individuals who are looking to increase their confidence when making the transition from tar to dirt. Whether you've been riding for 20 years or not even a month you'd be surprised what principles and fundamentals you can learn on this course to help you become a better rider.
You'll also be able to test your skills on new range of Triumph motorcycles (Tiger 1200 & 800XCA along with the Street Scrambler) that will be available on the day.
Keen to find out more? Email joe@bonafidestudio.com for more info and to RSVP.
To sign up now: https://goo.gl/forms/JDpPaL2tbOTaQzID3
Previous event: https://vimeo.com/262858908
Triumph Motorcycles South Africa The House Of Machines Bell Powersports South Africa Parabolica Motorsport Front Runner South Africa Metzeler
SHOW MORE