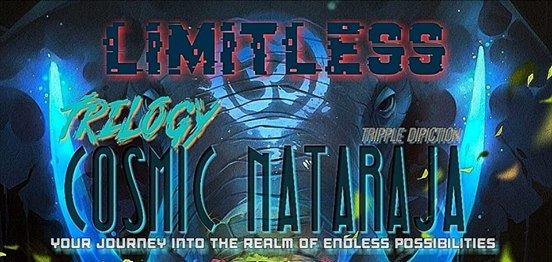 Limitless Experience ZA
26th Jan, 02:00 pm
2 months ago
THE COSMIC JOURNEY CONTINUES🌈☮️☯️🕉️⚛️
THE FESTIVAL:
(The Nataraja) / (YOUR JOURNEY)
Although it appeared in sculpture as early as the fifth century, its present, world-famous form evolved under the rule of the Cholas. Shiva's dance is set within a flaming halo. The god holds in his upper right hand the damaru (hand drum that made the first sounds of creation).
The Cosmic dance (tandava)
Tāṇḍavam (also known as Tāṇḍava) this is a divine dance performed by the god Shiva. Shiva's Tandava is described as a vigorous dance that is the source of the cycle of creation, preservation and dissolution.
We cary on this legacy of sound and dance through Cosmic Psytrance.. Join the Cosmic Evolution.
THIS IS ONLY THE BEGINNING.
🔸🔸🔸🔸🔸🔸🔸🔸🔸🔸🔸🔸
🕎Your Journey Navigators🕎
⚛️ HEADLINER?
⚛️
⚛️
⚛️
⚛️ HEADLINER?
⚛️
⚛️
⚛️
⚛️ HEADLINER?
⚛️
⚛️
⚛️
⚛️
⚛️ HEADLINER?
🔹🔹🔹🔹🔹🔹🔹🔹🔹🔹🔹🔹
🌳🌻FESTIVAL ACTIVITIES🌻🌳
🌀OPEN AIR BLISS PLAYGROUND
🌀TOP QUALITY PSYCHEDELIC DECOR
🌀CHILL AREAS
🌀A MASSIVE SOUND SYSTSEM
🌀FOOD VENDORS
🌀HOOKAH PIPE BAR & CHILL
🌀FACE PAINTING
🌀FULLY STOCKED BAR
🌀TOP CLASS DJS & PRODUCERS
🌀A STRICTLY DARKPSY ALL NIGHT ARENA.
🔹🔹🔹🔹🔹🔹🔹🔹🔹🔹🔹🔹
Limitless Experience presents COSMIC NATARAJA ||| (PsyCity) The Party within the Party
A Combination of Eastern tradition 🕉️🕉️🕉️ & African Flavour🐘🐘🦏🦏
🌍AFRICA🌍
Is thought of by other lands, as a Wild part of the world, Where great beasts🦁🦍🦄 exist in Harmony with us Humans🛸🧞‍♂️🧜‍♂️. This Coming year, we are returning the land to its mystic state to unite all wildlings in dance. We bring you Cosmic music beyond the reaches of reality, it has been fortold that with this weapon of Mass Peace we can unite the Tribes once & for all.
🏰Little PsyCity🏰
Welcome to Arkadia🛸
We Humans came together along time ago, to build the Oasis we call home to this day. The Little PsyCity is made up of some of our favorite local brands who we call family🌻🌿 & that makes us feel comfortable at a festival. We also have amazing Vendors to get you what you need when you need it🥑🍄🍿🍩🍭TBA soon.
COSMIC NATARAJA, which is LIMITLESS EXPERIENCE in conjunction with Ricky Mad Hatter from MindMelt presents - PsyCity.
A Multigenre, Multidancefloor Psytrance Party, on _Saturday 26th January, 2019, from _11am till 4am_. Venue to be advised.
(MindMelt) Little DarkPsy Arena.
MindMelt will be gracing us with a Little DARKPSY stomp ground deep within PsyCity, follow the BPMs🐲🐲 & it shall be revealed to you, by the Ear.
DarkPsy line up will be released soon, the arena will be running from 8pm To 4am Let's get Dark, Let's get Elite.
🦉PsyCity DarkPsy Arena🦉
🦇08:00 - 09:00
🦇09:00 - 10:00
🦇10:00 - 11:00
🦇11:00 - 12:00
🦇12:00 - 01:00
🦇01:00 - 02:00
🦇02:00 - 03:00
🦇03:00 - 04:00
🔸🔸🔸🔸🔸🔸🔸🔸🔸🔸🔸🔸
〽️ The Damage 〽️
PRE SOLD - R140
GATE FEE - R180
🔹🔹🔹🔹🔹🔹🔹🔹🔹🔹🔹🔹
⛔Festival Rules⛔
✖️ We as event hosts take absolutely no responsibility for anything. We will assure a safe invironment for all Troopers attending. So bring along some PLUR. That is all we need here❤️.
✖️18+
✖️ No ID no entry
✖️No sharp objects or any Glass objects allowed
✖️ No bad attitudes let's bring on the good vibes!!!!!!
SHOW MORE