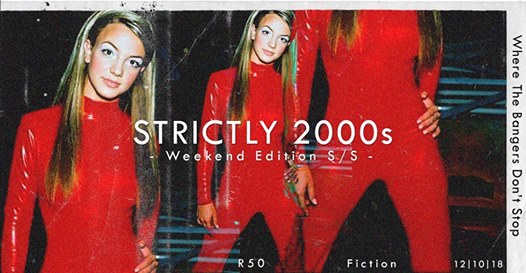 Strictly 2000s
12th Oct, 08:00 pm
2 months ago
Strictly 2000s happens on a weekend only once a month and that weekend is coming up for October very soon.
Strictly 2000s where you can expect all your favourite hits and bangers from the 2000s all night long. Think TRL, MTV, RnB, hip hop, pop and everything else in between! Anything and everything goes with all the songs you love.
Think waking up on a Saturday morning with a bowl of cereal and all your favourite cartoons on Nickelodeon, Cartoon Network, KTV or Tube.
Think TRL after school.
Think finding 5 Tazos in your chips.
Think chatting on Mxit in class.
Think wearing your Heelys in the mall.
Think having a scooter race.
Think Dragon Ball Z and Pokemon.
Think Paris, Nicky, Lindsay, Britney, Christina, Rihanna, Beyonce.
Think playing Snake on your Nokia 3310.
Think Paddle Pops and Tamagotchis.
Think Renting out videos and DVDs at Vee's Video and Mr Video.
Think Powerpuff Girls, Courage, Dexter and Rocket Power.
Think iPod shuffle.
Expect the golden age of Justin Timberlake, Outkast, Destiny's Child, Beyonce, Mika, Gorillaz, Amy Winehouse, Christina Aguilera, Mariah Carey, Ne-Yo, Britney Spears, Natasha Bedingfield, Daniel Bedingfield, Damian Marley, Maroon 5, Kid Cudi, Gym Class Heroes, Lil Jon, Aaliyah, Sisqo, Janet Jackson, Arcade Fire, The Clipse, N.E.R.D.,Shaggy, Alicia Keys, The Killers, Jennifer Lopez, Santana, Marey J. Blige, Usher, Ja Rule, Green Day, Ashanti, Nelly, Eminem, Kelis, LCD Soundsystem, Phoenix, Radiohead, Sean Paul, The Strokes, Lady Gaga, Amerie, The Postal Service, Missy Elliott, The Black Eyed Peas, B2K ft. P. Diddy, Madonna, Justice, Franz Ferdinand, 50 Cent, Yeah Yeah Yeahs, R. Kelly, Ludacris, The White Stripes, Juvenile, Ciara, Terror Squad, Snoop Dogg, Mario, Lil Wayne, Gwen Stefani, Chris Brown, Kanye West, Gnarls Barkley, Rihanna, MGMT, Kylie Minogue, Shakira, Nelly Furtado, Timbaland, Akon, MIMS, T-Pain, Soulja Boy, Flo Rida, T.I., TV On The Radio, Kelly Clarkson, M.I.A., Leona Lewis, Kelly Clarkson, Katy Perry, Pink!, Jay-Z ft. Alicia Keys, Jamie Foxx, Kelly Rowland, Mario Winans, Kings Of Leon, Arctic Monkeys, Coldplay, D'Angelo, The Shins, Modest Mouse, Daft Punk, Klaxons & more!!!
R50 all night!
This is everything you never thought you wanted and more.
xoxo
SHOW MORE